Nita and Yvonne were joined by Hilary, Penny, Mary and Linda for the1.30 start of the afternoon stroll on Blows Downs. After leaving the retail car park we were on the guided busway which took us over the Luton Road with a birds-eye view of how busy the roads can be on a Sunday.
Coming off the busway we were at the start of the Downs by a small community orchard with about 10 young fruit trees. The information board also showed a map of where the cows were likely to be. Always good to know!
The dampness in the air had now turned to light rain but enough for rummaging in the rucksacks for waterproofs for a couple of us.
The track we took has recently been widened and resurfaced otherwise it could have been quite muddy. On our left were several fields which are now being left to do what nature does best as part of the Wildflife and Countryside Act. At the end of this track we crossed the top of Half Moon Lane, through a gate and there they were - the cows we'd been promised, beautiful dark brown ones munching away not at all concerned by us.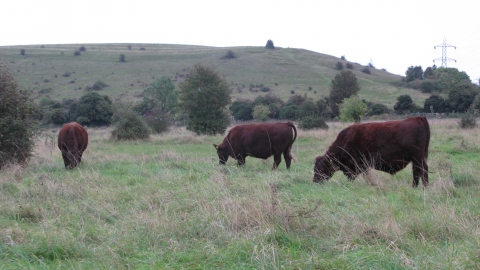 We were now at a point where we could have continued into Cottage Bottom Fields - but that's for another day. Turning left with a slight incline we were high enough to see across the A5 London Road towards Dunstable Downs.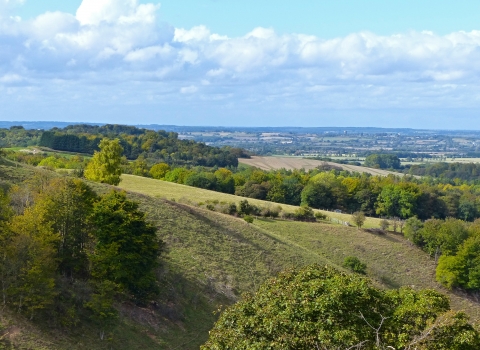 The return walk took us in an easterly descent on to a footpath and across one of the fields we passed earlier to retrace the route parallel with the busway arriving at Priory View for a sit down and well earned drink.
The walk was about 3.25 miles.